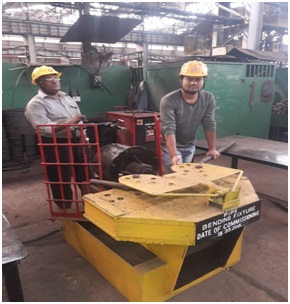 Location, Zonal Railway/Division/Units where used :
Wagon Repair Shop, Raipur
Brief description:
A gadget for bending of Air Brake Pipes was developed by a group of staff of Air Brake Section in the month of March'18 by utilizing one serviceable brake cylinder and some other scrap materials. It works with the aid of compressed air. The bending work carried out in cold condition of pipes. Due to cold bending grain structure of material do not changes as well as no stress develops. Desired angle of bend and finished are also achieved.